Fleischerheim German Shepherds
Most Trusted & Experienced German Shepherd Breeder and Importer for over

58

Years
Older Retired Male Trained Protection German Shepherds For Sale
We offer high quality retired from breeding Older Male German Shepherds to loving families.

Scroll Down For Reviews From Proud Adoption "Parents"

Occasionally retired Schutzhund trained German Shepherd Males are available to Good Homes at reasonable prices from $5,000 and up. All have excellent temperament with very good protection for a family (including Children).
All prices are subject to change without notification

DOB: January 15, 2016
Click on Photos to Enlarge
DOB: November 20, 2015
Click on Photos to Enlarge
Father: V31 BSZS2016 VA4 2016 Taifun vom St.-Michaels-Berg IPO3, Kkl 1a (VA Leo von der Zenteiche IPO3, Kkl 1a and V Jacky vom St.-Michaels-berg son; World Vize Sieger VA2 Quenn vom Loher Weg SchH3, IPO3, FH, Kkl 1a great-grandson)
Mother: V Menja vom St.-Michaels-Berg IPO1, Kkl 1a (2X World Sieger VA1 Vegas du Haut Mansard SchH3, Kkl 1a granddaughter)
Reviews from Our Adoption Friends:
A message from Art <alehr034@aol.com> dated May 25, 2021
Subject: Nero "Bear Hunter"

Bill,
Such a great dog -- at his post nothing will pass. Thanks! He is having a great time.
We have traveled the Midwest and he is great -- loves to travel no problems. Solid dog.
Thanks --
Art, Solo and Bear hunter NERO

California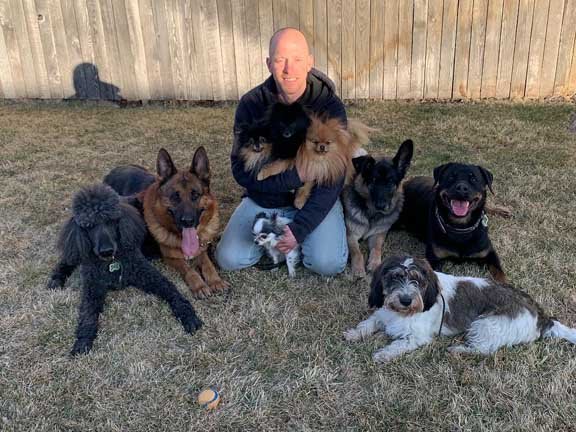 A message from Felix Rodriguez <farrod63@hotmail.com> dated September 10, 2020
Subject: Exyt

Hi Bill,
This is Arturo Rodriguez, from McAllen, Exyt's owner. Exyt is awesome, i'm very happy with him, he is always with me everywhere and very protective.

Arturo
Texas
December 2019
Fernando von der Nadine, IPO3

Fernando and Jeff Manning at Fernando's new home with Patty in CO along with Fernando's 8 new family members. Congratulations to Jeff for his successful introductions.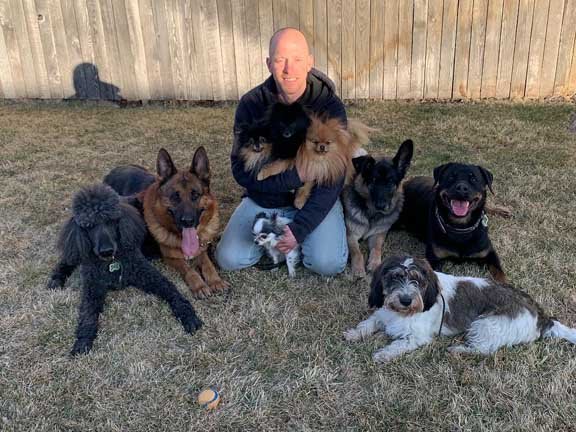 "Fleischerheim" in Retirement
Private Van Home Delivery in 48 States