Fleischerheim German Shepherds
America's Most Trusted & Experienced German Shepherd Breeder for over

55

Years
Only One of Two Known Texas Licensed GSD Breeders - License Number: 345
Purebred German Shepherd Puppies For Sale
FEATURING LARGE BEST QUALITY ALL GERMAN CHAMPION BLACK AND RED PUREBRED AKC REGISTERED GERMAN SHEPHERD PUPPIES FOR SALE WITH HOME DELIVERY THROUGHOUT THE UNITED STATES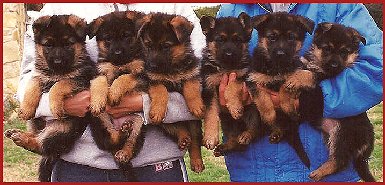 "Excellent" / "Better" / "Best" GSD Puppy Pricing Schedule $2,500 to $9,500
KENNEL REDUCTION - UP TO HALF PRICE ON MOST GSD PUPPIES AND OLDER PUPPIES
***RARE IMPORTED GERMAN YOUTH SIEGER PINK PEDIGREE PUPPIES***
Please Phone Bill Fleischer for individual puppy prices 916-791-9175
or Email: BILLSGSD@aol.com
No "Shopping Cart" Sales - Our very high quality German Shepherd Puppies deserve our personal attention as each GSD puppy is very special.
CLICK HERE TO SEE OUR OLDER GERMAN SHEPHERD FEMALE PUPPIES FOR SALE
NOTE: THE WORLD SIEGER IS THE ANNUAL WORLD GRAND

CHAMPION GSD

DOB: June 21, 2021
Click on Photos to Enlarge
Mother: Vixy IPO1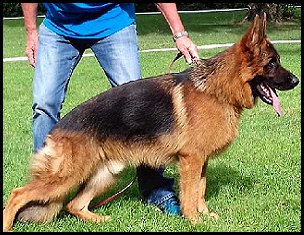 Father: Rasti vom Gamsetal IGP2, Kkl 1a
Mother: Vixy av Quantos IPO1, Kkl 1a ((Quoran d'Ulmental IPO3, Kkl 1a and Vilma av Quantos IPO1, Kkl 1a daughter; 2X World Sieger VA1 Remo vom Fichtenschlag SchH3, Kkl 1a granddaughter)
Beautiful Large All German Black & Red German Shepherd Purebred Puppies For Sale in Dallas, McKinney, Plano, Allen,Prosper, Fort Worth, Frisco, Houston, Austin, Lubbock and San Antonio, Texas. Also Arizona, Arkansas, California, Colorado, Connecticut, Florida, Georgia, Illinois, Louisiana, Massachusetts, New Jersey, New York, North Carolina, Oklahoma, Pennsylvania and throughout the United States.
CLICK HERE TO SEE OUR OLDER GERMAN SHEPHERD MALE PUPPIES FOR SALE
CLICK HERE TO SEE OUR OLDER GERMAN SHEPHERD FEMALE PUPPIES FOR SALE
Fleischerheim All German Sieger Line Purebred AKC Registered German Shepherd Puppies for Sale are lovingly home/family raised and socialized for tremendous attitude, excellent temperament, super trainability and that special people pleasing personality. Our very special German Shepherd Pups For Sale also have large bone, incredible black and red color, correct structure and beautiful breed type so lacking today in many German Shepherd Puppies. We also offer stunning black and red Long Hair/Long Coat German Shepherd Puppies For Sale.



WE BREED FROM WORLD RENOWN SIEGER/GRAND CHAMPION, VA & V RATED CERTIFIED SCHUTZHUND PROTECTION TRAINED IPO3 / IGP3 Titled GERMAN IMPORTS EXCLUSIVELY



Join the winning #1 Team Fleischerheim in 2021