Fleischerheim German Shepherds
Most Trusted Name in German Shepherds for over

58

Years
German Shepherd Trained Protection Dogs For Sale
Our majestic all German Schutzhund/IPO Certified German Shepherd Trained Protection Dogs for sale provide outstanding personal Protection. We are the most experienced Importer of the best All German (not lesser quality "European Bloodlines") World Renown Sieger and working line German Shepherds since 1964. See "Our Record Speaks For Itself". We have the best selection of these Unique, Magnificent, and Expertly Trained SchH3/IPO3 imports.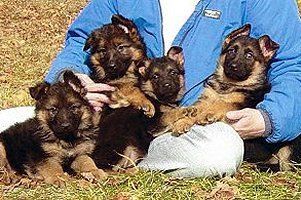 "Atze at Work"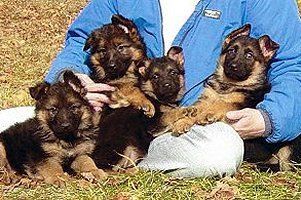 Atze at Home
Professional trainier, Jeff Manning, training is available to introduce your protection trained New Best Friend and his training to your family and home.
"The most striking features of the correctly bred German Shepherd are firmness of nerves, attentiveness, unshockability, tractability, watchfulness, reliability and incorruptibility together with courage, fighting tenacity and hardness."
- Max von Stephanitz, Father of the German Shepherd Dog
Our highly protection trained German Shepherd dogs for sale bring not only security to your home but are also the perfect companion for your family. Our Imported German Shepherd Dogs are used by families to guard against home invasion and for child protection. Many of our expertly (certified) trained German Shepherds are also ideal for competition trials also. The Fleischerheim German Shepherd Schutzhund/IPO Trained Protection Dog is a versatile working-dog, capable of being trained to perform a wide variety of tasks. They are excellent family companions, personal protection dogs, guard dogs, security dogs, service dogs and more.

Our IPO3 Trained Protection German Shepherd Dogs are loving companions and personal protection security for the entire family. Both guard dogs and security dogs bark to alert their owners of an intruder's presence and scare away the intruder. A Personal Protection Dog is capable of restraining the intruder. Our Schutzhund trained personal protection dogs therefore are the dog of choice therefore to protect against intruders.
These World Renown Protection Trained German Shepherds are Direct from VA IPO3 German Imports. As the most experienced and knowledgeable German Shepherd Breeder and Importer, no one can offer the quality and selection of top German Shepherd Dogs from our many German Shepherd Breeder and trainer friends in Germany as we can.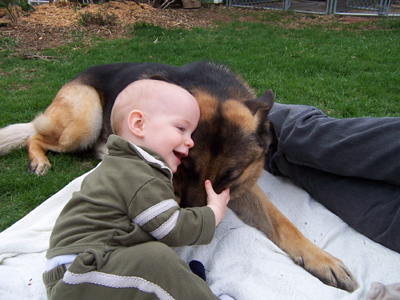 MAY WE HELP YOU WITH OUR
GERMAN SHEPHERD IMPORT EXPERTISE?
---