Fleischerheim German Shepherds
The Most Trusted Name in German Shepherds for over

58

Years
A Biography of Bill Fleischer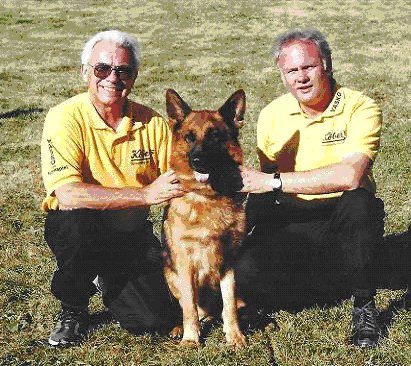 Bill - Yasko - Manfred
Following my graduation from MIT with a Bachelor of Science degree in Mechanical Engineering, I had a successful professional career. This included CEO positions with large divisions of Ingersoll-Rand and Dresser Industries, and then for over 10 years with my own company (which I sold in 1982) designing, manufacturing and marketing pneumatic tools and hydraulic jacks. On weekends during business trips to Europe, I became involved with Germany's legendary German Shepherd Breeders and Trainers in all aspects of breeding, training, showing and importing World Renown German Shepherd Dogs.
What began as a hobby 55 years ago evolved into essentially a full time dedicated retirement activity. We developed modern German Shepherd Kennels on 10 park-like acres in North Texas with associate facilities in other states My World Renown German Shepherd Importing and Breeding Program involves most of the World's best German Shepherd Dogs in the U.S. Indeed it was a privilege to own the #1 German Shepherd in the World, 2 times World Sieger VA1 Yasko vom Farbenspiel SchH3 Kkl 1a. (Please refer to My Record and Bloodlines)
My home base is in Northern California with my wife and valued assistant, Evy. I have six children with the youngest two still at home, our son Danny, who graduated from UC Berkeley, and daughter, Kristina, my puppy expert who enjoys raising our German Shepherd Puppies. I am also the grandfather of six, including the youngest & namesake, Will IV. During my late mother's 100 active years she always asked me why she sent me to MIT to become a German Shepherd Dog Breeder! While my resultant earnings made this possible at the highest level, it was difficult for her to understand my deep passion for our wonderful German Shepherd Breed. I am enjoying my retirement years dividing my time between my loving family and very special German Shepherds. Who could ask for anything more?