The Most Trusted Name in German Shepherds for over

58

Years
TEXAS GERMAN SHEPHERD BREEDERS AND PUPPIES FOR SALE - REFERENCES
We proudly offer beautiful large black & red German Shepherd Puppies for sale in Texas in the Dallas and Fort Worth Areas
Our stunning large boned German Champion VA & Sieger sired deep red and black German Shepherd Puppies are lovingly home/family raised and socialized at our modern 10 acre park like Kennel Facility in North Texas near Dallas.

We take great pride in raising our high quality German Shepherd puppies for sale in Texas to be your new BEST FRIEND.

Written health, hip and temperament guarantee.


Leading German Shepherd Breeders & Importers of the finest World Champion VA German Imports/German Shepherd Pups.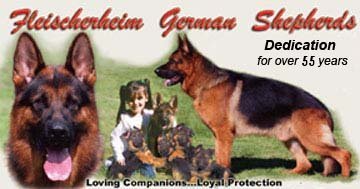 World Class Puppies
from World Renown Imports
Bill Fleischer - Jim Fleischer
Phone: 970-471-5582

Email: Jim@Fleischerheim.com
Breeding Very Special German Shepherds
We offer the largest selection of the best German Shepherds for sale in Texas. Superb VA/V Sieger Sired German Shepherd Puppies.

Impressive Male & Female Young Adults. Magnificent Imported Schutzhund Trained Protection Dogs. Titled Pregnant Females bred to Top German Stud Dogs
Extraordinary Beauty

Temperament and Intelligence are all combined in our World Class German Shepherds for Family Companions and Protectors, Show &/or Breeding.


Below are References from Fleischerheim German Shepherd Puppy Customers in Texas
A message from Adriana Sanguily <atsanguily03@gmail.com> dated June 24, 2020
Subject: KOA (Halvar-Dina female)Hi Bill,

I just wanted to give you an update on Koa. She is such a sweet and ridiculously smart dog and we're in love with her. She's completely house broken and learning her basic obedience very quickly. She loves to play with the boys but she's still learning proper puppy manners. I can go on and on...she's amazing!!

Thank you!
Adriana
Texas

A message from Chona Arreglado <chona.arreglado@gmail.com> dated June 20, 2020
Subject: FW: Fero's photos; dob: 9/18/13 son of Nero and Jasmine

Hi Bill,

It's been awhile since I last sent you photos of Fero. Fero is now 5 years and 9 months old. I got him from you when he was still 6 months old! Time flies so fast when you are having fun with your best friend. Fero is the love of my life. One night when I was in bed, he saw me snoring so loud that he panicked and went down stairs to alarm my mom who was watching tv at that time. He was running around her like nuts and mom thought he wants to go out to potty but Fero went towards the stairs, sat there then look at my mom and look up the stairs. Mom immediately understood what Fero was trying to tell her. They both went upstairs to check on me! I just love this boy.

He loves to come with us all the time. So when he is in the car, he whines but when I play the music in the car, oh boy, he is relaxed and quiet enjoying the music. He loves ballad songs… lol

I have so much to tell you about Fero. When we go out for a walk (everywhere we went) he is adored by a lot of people. Mind you, most of them take pictures of him. Lol I am a proud owner of this beautiful GSD!

Anyway, here are some of the photos of Fero. Thanks again.

Maria
Dallas, Texas
A message from Jared <mjaredsullivan@yahoo.com> dated May 8, 2020
Subject: German Shepherd Puppy

Mr. Fleischer,

My wife and kids visited yesterday and bought a pup from you. I was not able to join them, but I just wanted to take a moment to say thank you for the way you treated them. My family was quite complementary of you, your kennels, and the way you cared for your dogs and pups. We had a wonderful night last night bonding with our new family member, who we are calling Ky. He is beautiful and so smart and loves his tennis ball. We look forward to our future with him.

Thank you again,

Jared Sullivan
214-773-****
Texas
A message from Audrey Trimble <audreytrimble@me.com> dated September 2, 2018
Subject: Thank you


This is the best pup ever.!!

Thank you,
Audrey Trimble
Texas
A message from Deanna Courtwright <djbcourt@me.com> dated June 30, 2017
Subject: Our precious Max

Growing sweeter every day. And boy is he SMART. WE love him SO much.
.
Thanks,
Deanna Courtwright
Texas
A message from Barbara Danner <bdanner7901@gmail.com> dated May 15, 2017
Subject: "McKinley" Danner's Checkup went well...

Good Evening Mr. Fleischerheim,
What a blessing "Kinley" is to our family already! She is ALL that we've been looking for! Slept the entire 6 hours home!
In less than 48 hours, she has learned NOT to barge in or out of the door and sits and waits to be invited in or out! Potty training is going real well so far. We are working on not whining when alone in her kennel. She wants to be by her "sister" at all times so still going through separation.
The vet examined her and she checked out just fine. Was THE BEST DOG!
What date do I go by for the Heartguard and Nexguard?
We can't thank you enough for such an amazing dog! We will be in touch soon with more pictures! God bless.

Sincerely,
Barb, Dave, and Brittany