The Most Trusted Name in German Shepherds for over

58

Years
SEEKING NEW JERSEY GERMAN SHEPHERD BREEDERS
To become a Breeding Associate anywhere in New Jersey contact Bill Fleischer.
Join "Team Fleischerheim" Today !
We offer all German red and black German Shepherds for sale in New Jersey. We ship our very special German Shepherd dogs Worldwide, including Newark and Cherry Hill New Jersey.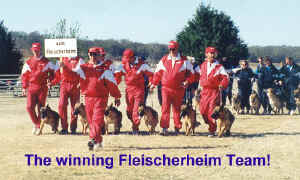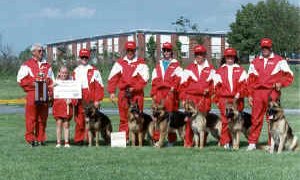 We are seeking a limited number of serious individuals in New Jersey who really care about the future of our German Shepherd breed and wish to participate in our growing German Shepherd Import program. Our Goal is to accelerate the importation of top quality breed-worthy German Shepherd males & females. We desire to establish truly World Class German Shepherd breeding programs throughout America. Our emphasis continues to be on proven producers including males on Germany's "Top 50" stud list and comparable females from Top Producing Bloodlines. Sole ownerships, co-ownerships and small investment breeding interests are available. Please note we are extremely proud that we have imported 5 of the 8 German Shepherd stud dogs whose progeny groups were exhibited at the 1996 Sieger Show.
To Join Team Fleischerheim Phone (916)791-9175
or Email: Billsgsd@aol.com
Below are References from Fleischerheim German Shepherd Puppy Customers in New Jersey
A message from Shu <shu.chowdhury@gmail.com> dated April 19, 2020

Subject: Intro - Bill + Johnnie

Hi Bill,

Hope you and your family are doing well doing this crazy time.

Bear and Wolf are doing great 👍🏽 IG: @bearwolfinc and pic below.

Please meet my friend Johnnie who's interested in a German Shepherd.

Please connect.
Thanks.
Best/ Shu
@shuchowdhury | +1917592****

New Jersey
A message from Owen Pardo <owenpardo@me.com> dated July 21, 2019
Subject: Jaxon

Your boy at 2.5 years!!
A message from Elliot Zimet <elliotzimet@gmail.com> dated April 13, 2019
Subject: Re: FLIGHT ARRIVAL INFO -- AA2822 ARV LGA 6:00 PM

Bill & Evy,
The pup is absolutely perfect!
Thank you for taking the time in answering all my questions… (lots of questions)
I named him Gunther.
He has an awesome temperament and his color is stunning.
Please let me know if you ever need a referral.
Have a great weekend!
Elliot

Sent from The desk of Elliot Zimet

A message from Mark <backnit2win@gmail.com> dated July 5, 2017
Subject: 4th of July 2017

Finished Schutzund 1

Mark
NJ

A message from OWEN PARDO <owenpardo@me.com> dated June 9, 2017
Subject: Re: Jaxon (Tim-Ursa Long Hair Male)

Reddest GS that I have ever owned. Color is spectacular!! Great personality and demeanor!

Owen

A message from Kellyann Fay <kfay66@icloud.com> dated October 2, 2016
Subject: Molly Malone vom Fleischerheim Fay - New Jersey

Hi Bill,

Almost 13 years ago we were blessed with the most amazing German shepherd puppy from you. We named her Molly Malone Von Fleischerheim Fay and called her that often. Sadly today Molly has left us but not without the best memories of her life with us filled with so much happiness. She was such a pack animal. Anywhere my kids were she went. From sleigh riding to bike riding to swimming in the bay. She even has her own Instagram account - mollyfay30 I thank you what you do. We have treasured and will continue to treasure our time with Molly. My husband just reminded me to let you know that even at the age of 13, Molly never had any hip issues. She was truly still running around like a puppy (just a little slower). I forgot to mention what a gentle, sweet dog Molly was. My son could put an oven mitt on and mess around with her as if she was in training for K-9 and in a split second she could switch to playing with a toddler. She was incredibly smart. It was like having a pre-schooler around when you need to spell the words you can't say out loud because she knew what you were talking about which is the funniest thing. Anyway, I could go on all day with how great she was but I won't. I encourage you to check out her Instagram account that I mentioned in my previous email. I think you will get a good understanding of her personality.

Thanks again for being the breeder you are of such quality dogs.

Sincerely,
Kelly Fay
New Jersey
Sent from my iPhone


A message from Shauna Knoth <shaunaknoth@yahoo.com> dated September 8, 2016
Subject: Tex

Hello, just wanted to let you know we laid Tex to rest. Tex had a good life and lots of love. We will miss him dearly.

THANK YOU for an awesome dog!!!!

~Shauna Knoth
New Jersey


A message from Mark <backnit2win@gmail.com> dated Aug 13, 2016
Subject: Re: NERO-JOLENE ULTIMATE SUPREME MALE

Good morning!!! Well we finally arrived home!!! His personality and temperament is outstanding. Not timid at all. Thanks again

Mark
New Jersey


A message from Jackie Mazzucco <jghm@aol.com> dated Mon, Mar 14, 2016
Subject: Happy Customer

Hello we had a male shepherd from you in 2004 and he was the best dog ever! I would stand by our choice to purchase our dog from you. He died recently and was the smartest, well tempered dog ever!
If you ever need a review please feel free to contact me-Jackie Mazzucco jghm@aol.com Cell 732547****