Fleischerheim German Shepherds
Most Trusted & Experienced German Shepherd Breeder for over

58

Years
German Shepherd Pregnant Females For Sale
PLEASE PHONE FOR INFORMATION ON OUR IMPORTED PREGNANT GERMAN SHEPHERD FEMALES
TIMING IS IMPORTANT BECAUSE OF THEIR IMPENDING DUE DATES!

All females are confirmed pregnant by ultrasound before they are shipped!
Contact: Bill Fleischer for more information 916-791-9175
No one can offer the quality and the availability of Imported Pregnant Female German Shepherds as we can.


Sue von der Edelquelle IGP1
DOB: July 25, 2019
Click on Photos to Enlarge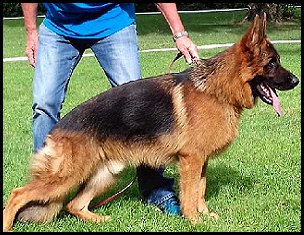 (Puppy Sire - V27 Uri vom Turkenkopf)
Father: World Sieger VA1 Gary vom Hühnegrab IPO3, Kkl 1a (VA Omen vom Radhaus SchH3, IPO3 and daughter; 2X World Sieger VA1 Remo vom Fichtenschlag SchH3 grandson)
Mother: V Quenny vom Türkenkopf IPO1, Kkl 1a (V Eldorado vom Türkenkopf IPO1 and V Zambi vom Türkenkopf IPO3 daughter; V1 Tyson vom Köttersbusch SchH3 granddaughter)

Wikki vom Chipsy Taim IGP1
DOB: July 5, 2019
Click on Photos to Enlarge


**CONFIRMED PREGNANT BY ULTRASOUND**
6+ Puppies
SIRE: Markus von Tepelung IGP3

Father: V Turan von der Piste Trophe IPO2, Kkl 1a
Mother: Fenja od Kovacica BH, IGP1
Private Van Home Delivery in 48 States